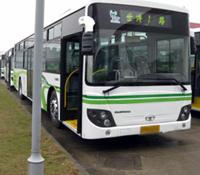 Shanghai World Expo is another great international event after Beijing Olympic Games which attracts attentions from all over the world. As the main city bus provider for Shanghai, Wanxiang Bus provides nearly half of buses running in Shanghai. And they launched "Unblocked transport" and "Seamless service" etc activities to ensure smooth World Expo.

Wanxiang Bus has provided nearly 3,000 city buses for Shanghai in the past two years, including nonstop lines, public transport and outskirts bus lines.

Shanghai Wanxiang started to produce 12m, 10.5m, 8.9m and 8.3m high-end and medium city buses. After one-year preparation, the delivery is going to be end.

Wanxiang has made many safeguards approach in response to requirement of Public Transport Company. And they have also called up all service staff to ensure transport work during World Expo.

Shanghai Wanxiang after-sales service centers include two central service stations in Shangnan and Baoshan, where heavy repair and most technical support can be finished, and bus operators are first class stations and social stops are third class stations. Their three class service stations, including 24 service stations, covers the whole Shanghai city area.